Wyjdźże z dzieckiem
2023-04-17 10:18 0 komentarzy
Rezerwat "Czartowe Pole" to piękny obszar chroniony położony w pobliżu miejscowości Firlej w województwie lubelskim. Nazwa rezerwatu pochodzi z miejscowej legendy, według której to miejsce było miejscem spotkań czarownic i innych demonów, w tym samego Czarta.
Artykuły
Więcej
2022-04-27 11:27 0 komentarzy
Na szczycie Trzech Koron stawaliśmy już kilkukrotnie, tym razem jednak wybraliśmy bardziej wymagającą i dłuższą trasę, a także podjęliśmy się zdobycia dwóch najbardziej znanych szczytów polskich Pienin tego samego dnia.
Wyjdźże z dzieckiem
Więcej
2021-12-05 19:58 0 komentarzy
Kiedy za oknem szaro, a dookoła wszechogarniający smog, warto zajrzeć do jaskini solnej. Wspaniały mikroklimat panujący wewnątrz, przyciemnione światła i spokojna muzyka płynąca z głośników. To idealne miejsce do relaksu dla dorosłych a także, a może przede wszystkim świetna zabawa dla dzieci.
Wyjdźże z dzieckiem
Więcej
2021-11-27 21:01 0 komentarzy
Góra Żar znajdująca się w Beskidzie Małym to bardzo znane i chętnie odwiedzane miejsce. A to ze względu na znajdującą się tutaj kolejkę linową- terenową, dzięki której w kilka minut możemy dostać się na szczyt.
Wyjdźże z dzieckiem
Więcej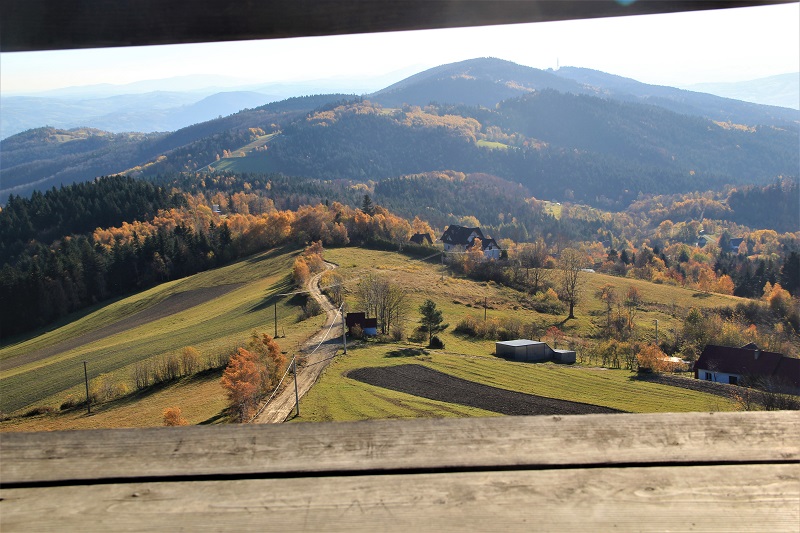 2021-11-24 14:11
Piękna złota jesień trwa w tym roku wyjątkowo długo, chcąc nacieszyć się jeszcze pięknem przyrody postanowiliśmy wybrać się na Jaworz w Beskidzie Wyspowym. Ze znajdującej się pod szczytem wieży widokowej roztaczają się przepiękne widoki z Tatrami w tle.
Wyjdźże z dzieckiem
Więcej
2021-11-17 10:07 0 komentarzy
Magurski Park Narodowy położony na najbardziej dzikich terenach Beskidu Niskiego, jest jednym z mniej znanych Parków Narodowych w Polsce. Dziewicza przyroda, rzadkie gatunki roślin i zwierząt, zupełna cisza i niewielka ilość turystów sprawia, że miejsce to przyciąga miłośników niczym nie skażonej przyrody.
Wyjdźże z dzieckiem
Więcej
2021-11-07 13:01
Beskid Niski i mieszczący się na jego terenie Magurski Park Narodowy to bogactwo dzikiej i niczym nie naruszonej przyrody. Kiedy jednak pogoda nie dopisuje warto wybrać się do niezwykłego muzeum w którym ta przyroda jest dosłownie na wyciągnięcie ręki.
Wyjdźże z dzieckiem
Więcej
2021-11-03 13:59 0 komentarzy
Hala Boracza z której roztaczają się piękne widoki na cały Beskid Żywiecki już od dawna była w naszych planach. W końcu plany udało się zrealizować, a wybrana trasę polecamy zarówno dzieciom, osobom starszym jak i zupełnie początkującym amatorom górskich wędrówek.
Wyjdźże z dzieckiem
Więcej
2021-11-03 12:56 0 komentarzy
Rezerwat Kornuty to obszar znajdujący się w otulinie Magurskiego Parku Narodowego i wizytówka tegoż parku. Będąc w Beskidzie Niskim musieliśmy zajrzeć w to miejsce i choć nie planowaliśmy dłuższej wycieczki to odwiedziliśmy przy okazji Diabli Kamień i Wodospad Magurski.
Wyjdźże z dzieckiem
Więcej
2021-10-12 11:56 0 komentarzy
Niezbyt często odwiedzamy Beskid Mały i chyba musimy to zmienić! Mało wymagająca, malownicza trasa prowadząca na Potrójną to propozycja dla rodzin z dziećmi, a także dla tych którzy dopiero rozpoczynają swoją przygodę z górami.
Wyjdźże z dzieckiem
Więcej